Document Generation
Document Generation is an important feature of many of the applications that we have written. The most popular way of distributing generated documents is as .pdf attachments to e-mails. Document Generation is also used for e-mails, printed document and web pages.
Productive Technology usually provides an editor where the client can create and subsequently change each document. Documents in include merge fields so that each generated document is exactly as required.
Some applications edit each document as a whole. Documents can also be assembled from templates, where each template is individually editable. There might be templates for header and footer which are used for all documents. More complex documents are assembled from multiple templates, using whichever templates are required for the document being generated. For example a template for each product type.
HTML editor
Simple whole-document editor where the document is typed in raw HTML.

WYSIWYG editor
Full WYSIWYG editors are available too, with this example demonstrating merge fields.This editor can receive copy and pasted content from Microsoft Word.

Case study – Sales bundle
A telecoms company were a one-stop-shop for corporate telecoms needs. Their business model was to include all aspects of telecoms (land lines, mobile, leased lines, PABXs, cabling and many specialist solutions into one quote). Quote were often 50 pages long and would take a week to assemble. Prod Tech provided an application to generate the quote. It included
Numbered pages throughout (which was impossible before)
Index
Summary of the whole quote, showing by product: price and saving against current supplier.
Areas of bespoke text including the introduction
Standard text and pre-formatted quotation pages appropriate to each product (classic template with merge fields)
Graphical representations of savings made and speed improvements for certain products
Manufacturers' brochures for hardware
Using the application "Two Fishes" a very professional, comprehensive and consistently formatted quotation could be assembled in less than a day.
Multi-template document
This example creates complex documents from multiple templates. The application has many multi-template documents configured so the template selector has many options available to suit different types of document and different product groups.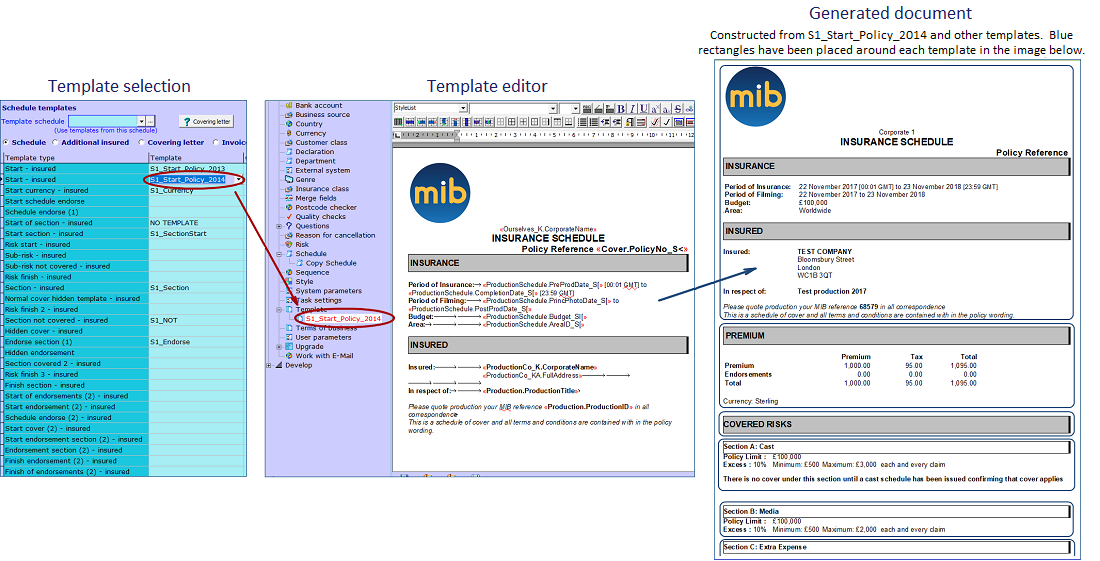 Control when documents are generated
Most application always generate the same documents at each stage of the business process. The screenshot below is from a situation where different product groups required documents to be generated at different times.